This week, the Carnival was hosted by the lovely Coquette, who asks:

As we look ahead to Fall season next month, what is one item of clothing you will miss in your Summer wardrobe and what is one item you are coveting for Fall?

For me, I will miss my wonderful grey strapless jersey Dru's Design dress... it will work as a layering piece for those cool end of summer days, but once the rainy fall weather begins I'll have to say goodbye until next year. The dress is simple and strapless with a full, flowing skirt, a handkerchief hem and a removable belt in the same fabric & color...Please excuse my messy room in this picture!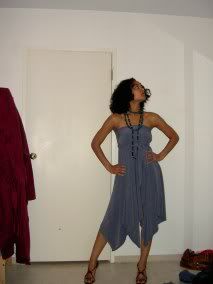 Unfortunately Dru's Design doesn't have a website, but you can find her clothes at Shop Cocoon.

For fall, I have to say I agree with Coquette! I'm looking forward to finding a really really nice coat...I already have a few coats and jackets in different colors and prints,but I have yet to buy a simple but stylish black coat that will last me at least a few years. This Navigator coat from Anthropologie really caught my eye:



The wool fabric would be warm enough for Vancouver winters and won't get damaged too much by the near-constant fall/winter rain. It is cut slim and fitted through the torso, flaring out just enough over the hips. The length is perfect for my figure, hitting right below the knee. The silver buttons and dot-print lining give it that little special something extra that I look for when buying something that at first glance seems kind of plain.